Illuminate Matariki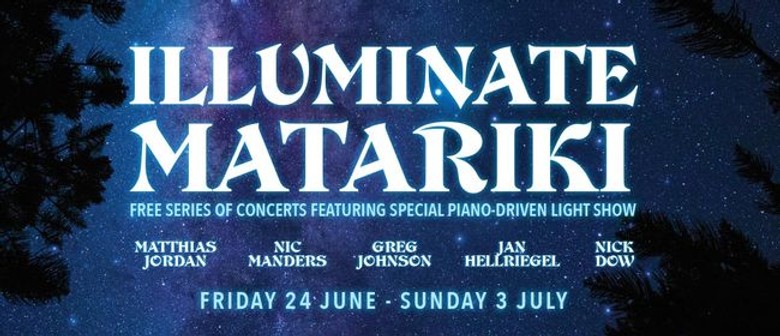 From 24 June – 3 July, some of Auckland's finest piano-based musicians will perform at their favourite locations, with a series of innovative twilight concerts free to the public.
Each 'Illuminate Matariki' event harnesses digital technology which enables the notes of the piano to trigger a captivating light show unique to each song.
The evening begins with a performance by Tereora – bringing waiata (songs) and kōrero about Te Whānau Marama (Family of Light), and the magic of Matariki/ The Māori New Year. Tereora's work focuses on themes of Maumahara (rememberance) and celebration in Aotearoa, that the rising of the Matariki leads us into. "Mānawatia a Matariki – we welcome Matariki!"
See popuppiano.nz and the Eventfinda listings below for the full line-up of piano-based performers, dates and venues.
Organisers encourage attendees to bring chairs, rugs, snacks and hot drinks. Relax into a series of special family-orientated events - a spectacular visual and musical feast to remember.
Illuminate Matariki is supported by the Local Activation Fund Programme, administered by Tataki Auckland Unlimited on behalf of the New Zealand Government.