2021 Banks Peninsula Walking Festival Full Programme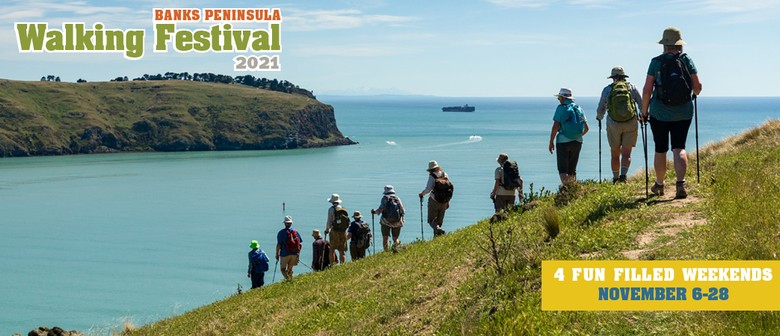 Nau mai, Welcome to the 2021 Banks Peninsula Walking Festival, running every Saturday and Sunday from 8th-28th November
This year's programme is expected to be as popular as ever with a great variety of walks to enjoy on Banks Peninsula. Join the continuing multi-year Kaitorete Spit challenge, take the family on a Kid's Adventure at Sugarloaf, or visit the new Te Ahu Pātiki conservation park in Whakaraupō/Lyttelton Harbour! Try out a digital 'Our Stories' walk in Lyttelton, follow in the footsteps of Akaroa's Antarctic hero Frank Worsley, or join some 'rock-hopping' at Kaioruru/Church Bay with a well-known Canterbury volcanologist. The great variety of walks offers something for people of all ages, abilities and interests. Whether it be history and heritage, botany or geology there is something for everyone with a guarantee of beautiful views and scenery along the way.
Book early as places are limited and walks fill up quickly!
COVID-19
Alert Level 1 - The Festival will continue as normal but bring your own hand sanitiser.
Alert Level 2 – Bring your own hand sanitiser and a face mask for any close contact situations that may occur during your walk. A small number of walks will not run and you will be issued a refund.
Alert Level 3 & 4 – The Festival will be canceled and you will be issued a refund.
Please be aware that credit card fees apply when booking.
Note that if you present your booking ticket you will receive a 15% discount off all walking poles from 'Hunting & Fishing' at Tower Junction.