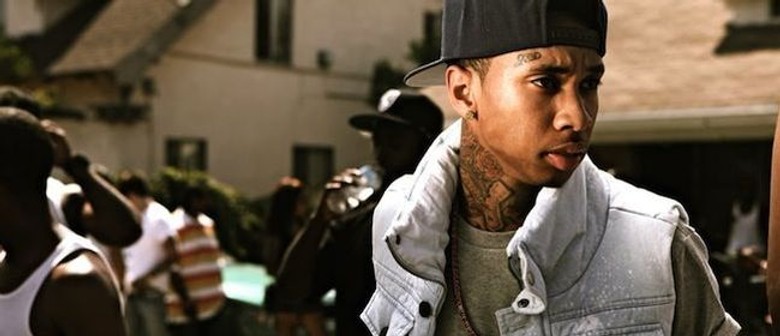 Websites
In a few short years, TYGA (an acronym for Thank You God Always) has shot to rap legend status and is currently signed to Lil Wayne's Young Money Entertainment alongside Drake, T-Pain and Nikki Minaj. Born and raised in the infamous Compton, California, TYGA (born Michael Stevenson), was just another kid from the hood struggling to rise above the neighbourhood. Then a conversation one day at a LA sneaker store changed everything. TYGA ran into his cousin, Gym Class Heroes' Travis McCoy, in the Flight Club L.A. sneaker shop. Their conversation went from shoes to rappers, "we started talking about music and I got enough courage to give him my little mixtape" TYGA says. Travis signed TYGA to his Bat Squad Records imprint and TYGA soon became an unofficial part of Gym Class Hero's crew and his undeniable presence was felt at numerous events, appearances and shows.
Travis invited TYGA along when the punk-pop group Fall Out Boy came calling. Travis and TYGA appeared on the remix to Fall Out Boy's "Arms Race," which also featured Kanye West, Paul Wall, Skinhead Rob, Lupe Fiasco, and Lil Wayne. When the remix became a hit, TYGA found himself performing the track on MTV's Video Music Awards in 2007. TYGA stepped up and traded vocal jabs on a stage full of pop-culture heavyweights in front of millions of viewers - the star had officially arrived. Lil Wayne said about the MTV Award Show "at rehearsal I thought he was just a stand in, but when the cameras were rolling I realized he wasn't playing around". TYGA was soon recording in Lil Wayne's studio, rapping on Lil Wayne's album The Carter III! The rest is history!
TYGA's aptly titled debut album, No Introduction, was released on June 10, 2008. The hooky lead single, "Coconut Juice" featuring Travie, shot TYGA to international acclaim as the club track shot up the charts. TYGA explains the meaning behind the unusual phrase Coconut Juice; "I don't drink alcohol, so at parties I would just walk around with a cup mixed with whatever else I could find. When people asked what I was sipping on I would say 'coconut juice' because it sounded funny. So I made a song about it." The album also featured appearances by Stump, Travis, & Lil Wayne.
After No Introduction, TYGA released many mixtapes including creating Fan of a Fan with Chris Brown and producers DJ Ill Will and DJ Rockstar. Fan of a Fan featured artists including Bow Wow, Lil Wayne, and Kevin McCall. The track "Deuces" was released as the debut single of the mixtape and reached number fourteen on the Billboard Hot 100 and number one on the Billboard Hot R&B/Hip-Hop Songs. The track was also nominated for Best Rap/Song Collaboration at the 53rd Grammy Awards. The track, among others, was on the tracklist of Chris Brown's fourth studio album, F.A.M.E.
TYGA's second and most recent album, Careless World: Rise of the Last King, was released February this year and features Game, Snoop Dogg and Drake. The first official single, "Far Away", was released in May 2011 and rose up the Billboard Hot 100. The second single and third singles "Still Got It" and "Rack City" followed suit. The fourth official single, "Faded", was released in January 2012 and fans still can't get enough.

Post a comment
How do we buy tickets and what date is he coming to NZ ? How do we buy his tickets for NZ concert??