Off the Press - Five Printmakers
8 Railway St, Newmarket, Auckland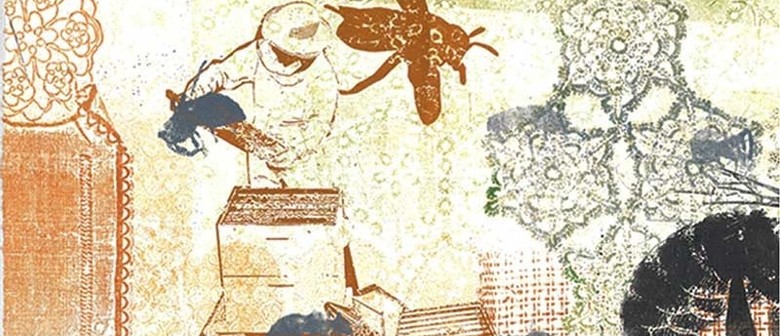 Restrictions
Website
Listed by
Ina Arraouni, Esther Hansen, Jude Gordon, Rachel Schanzer, Prue MacDougall.
Artist talk: 22nd January, 11.00am - two artists in conversation about experimental approaches to printmaking.
Eco-systems, environmental challenges and ecological disaster are reoccurring themes in this selection of original prints by five talented printmakers. On display will be a range of experimental approaches including many unique one-of-a-kind pieces.
Esther Hansen's Bee Box Book Project converts a Langstroth hive box into a "book". Each side expressing an aspect of beekeeping and the artist's own personal bee mythology. On one side, the factual story of Steve Nimmer, a California beekeeper who tried to rescue, but lost, most of his hives in the 2017 Thomas Wildfires. Global warming is increasing the risk of fires that destroy everything in their path, including whole ecosystems, homes, and businesses. They also show the power of man working with nature to rebuild and restore. We are on the brink of ecological disaster. Bees are dying from the impact of human practices.
The other pages are more fantastical, from ladies riding bees side-saddle to bees dancing jive. What if a Queen bee really did rule the world?
Ina Arraouni's new series, "Minced Oaths", is inspired by her time in Florence, Italy where she studied traditional etching techniques.
Made with Tetrapak cartons and other found objects on my daily walks, these etching were developed during the recent 2021 lockdown. A move towards a more sustainable practice in terms of materials, space, and time is reflected in the ideas addressed in each work about the alarming environmental challenges we face due to overconsumption and consumerism.
The preserving jar is a recurring motif in her work which highlights practices of cultural continuity in the face of constant change and the necessity to adapt. The compositions are influenced by the architecture and ominous, metaphysical landscapes of Italian artist Giorgio De Chirico.

Prue MacDougall's art practice has always operated like a metaphorical stage in which she contrives whimsical tableau to reflect her personal life experiences and the intriguing dynamics of human relationships. MacDougall's most recent work uses nature and trees as subjects that are superimposed and imbued with human qualities to give them an ancient mythical presence.
Her compositions echo the haunting imagery of Goya, Rego, and to a lesser extent, Piranesi. Prudence acknowledges being inspired by these master printmakers, but it is their application of chiaroscuro and theatrical drama to evoke an emotional response that primarily interests her.
Rachel has always worked in multiple layers and approaches her printmaking with an experimental inquiry into texture, colour and parred back imagery. Her current work is largely inspired by the evocative elements of sea environments, to which she is drawn. The ebb and flow of water, the ever-changing wind and light, create movement, rhythms and a palette that can be calming, mesmerising and equally dramatic.
Jude Gordon has focussed on printmaking as a medium in earnest for the past 5 years. Prior to this her printmaking comprised of small concentrated spaces where she made work for independent exhibitions and group exhibitions while working as an Art Teacher.
Gordon considers print a medium that offers space to meditate on the form she is exploring at the time. Print also has endless possibilities and a choice of mediums that introduces a type of chaos that is both frustrating and exciting for her.
"My passion, our whenua, is under pressure and in danger of collapsing. Our health and well-being is inextricably bound to our environment. In my artworks I try and express a life force vital for our planet's well-being and ours."
Post a comment
Did you go to this event? Tell the community what you thought about it by posting your comments here!