A Moving Masterpiece
Vodafone Events Centre, 770 Great South Rd, Wiri, Manukau City, Auckland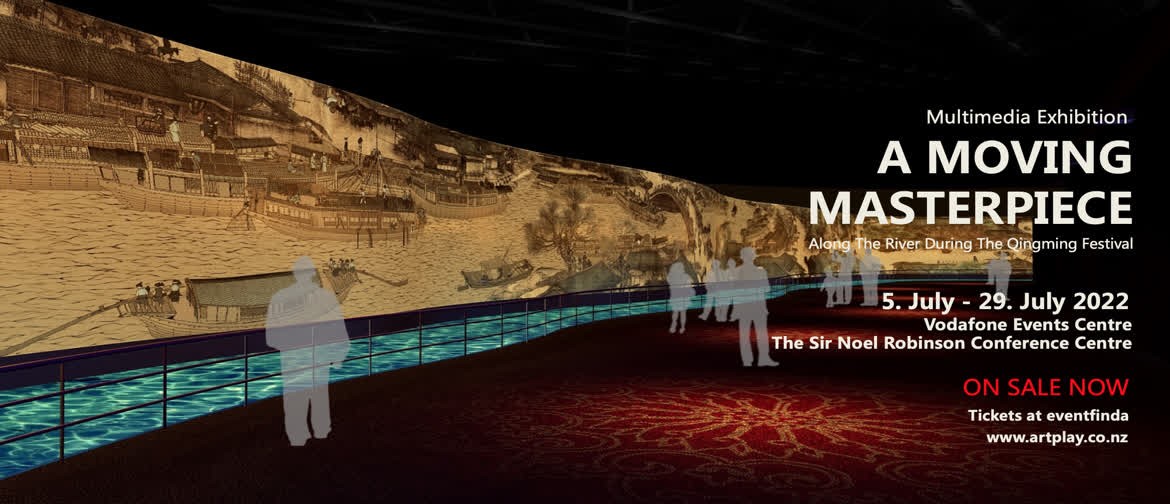 Tour
Restrictions
Website
Listed by
A Moving Masterpiece
"Along the River During the Qingming Festival"
Multimedia Art Exhibition
Along the River During the Qingming Festival (Qing Ming Shang He Tu) is regarded as one of the most important paintings in Chinese history, which is often called "China's Mona Lisa".
Painted nearly 1000 years ago by ZHANG Zeduan (1085-1145) in the Northern Song Dynasty (960-1127), the more than five-metre long handscroll (24.8*528.7cm) vividly captures people's daily life and the landscape of the then capital Bianjing (now Kaifeng in Henan province).
In this digital animated representation of the artwork, the painting has been magnified over ten times to a 3.5m tall and 40m wide large screen, which had its debut at the Expo 2010 Shanghai China before being showcased in Hong Kong, Taipei, Singapore and Japan.
With the latest 3D animation technology, viewers can feel they're being taken to the ancient Bianjing city. They can see endless streams of merchants, workers and livestock, and can also hear the horn of boats along the river and the noise from the busy markets onshore. It's also worth paying attention to a herd of camels, which as part of a merchandise group, shows that the prosperous Bianjing is open for business with the western regions.
During the daytime scenes, one can observe up to 691 characters moving in the painting, and 377 characters visible at night. The entire scene replays every four minutes, alternating between daytime and nighttime scenes.
Through the all-encompassing canvas of entertainment, festive celebrations, commerce, food, architecture, customs, and temple fairs, viewers will not only be able to feel the vibrance of people's daily life in ancient China but can also get a snapshot of China's 5000 years' worth of culture and wisdom.
The exhibition is complemented by Chinese zither performance and interactive digital experiences including a time passage and an acting game. A replica of the original handscroll will also be on display.
People who liked this also checked out these events
Post a comment
Did you go to this event? Tell the community what you thought about it by posting your comments here!