Great Aotearoa/NZ Fakes & Forgeries - Covid Extension!
6360 State Highway One, Mangaweka, Rangitikei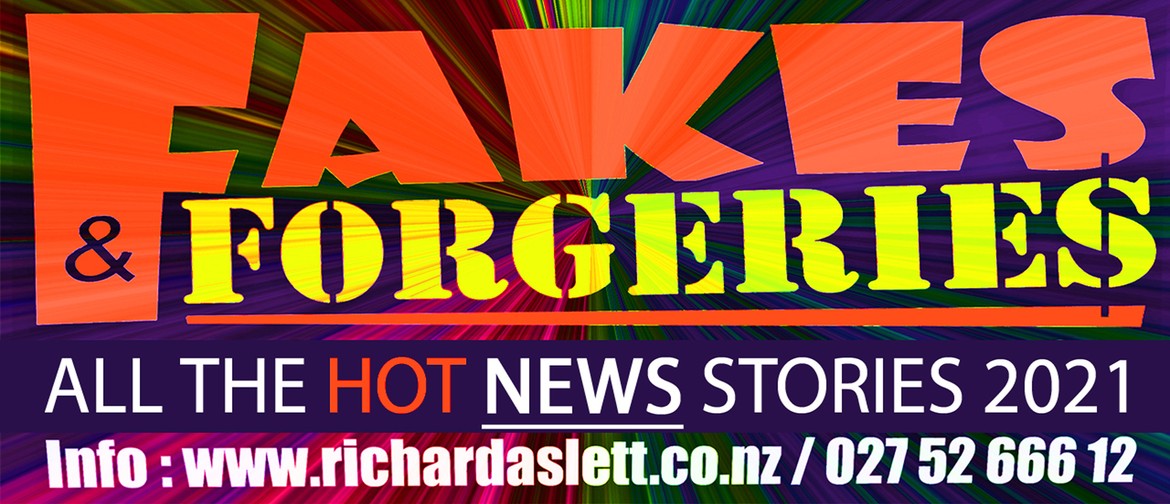 Restrictions
Website
Listed by
Due to Covid Disruption we have now extended parts of the Fakes & Forgeries exhibition until mid-December 2021 !
After a magnificently successful opening day, with crowds literally in the hundreds attending the various events, the Massive Book Fair, Craft Markets, Art demonstrations and the town-wide 'Garage Sales' occurring on the day, (see new added pictures, news cuttings and winners results below) we then did see a gradual decline in numbers through the doors as the Auckland/Northern lockdowns took their toll. As a result we have extended parts of the exhibition through till December the 14th.
Fakes & Forgeries was first inspired by world famous art forger Karl Sim (aka Goldie) who was born in Mangaweka, in the Rangitikei district. His works went on to become major collectors and investment pieces after some of them were (allegedly!) signed with the signatures of other artists and sold on to the New Zealand art market in the last Millennium, sparking one of the longest trials in NZ history!
Karl Sim received a substantial fine and was ordered to do community work, yet he also craftily changed his name by deed pole to C.F. Goldie immediately after the trail. He went on to become well known for his cheeky pokes at the 'established' art world, and was often a guest speaker and presenter at Mangaweka's and other big art events, being the subject of TV1's 'Close-up' and many other newspaper and radio interviews, before his untimely departure to the big Art Studio in the Sky in October 2013. Undeterred by his passing, Mangaweka continues to honour it's most famous son with this fun art event for all the family.
This year saw over 40+ entries into the Adults and 16yrs & Under sections at the 'Yellow Church" Gallery and over 100 fabulous artwork entries from the districts schools displayed at the Viillage Hall. See below for all the Winners. A large selections of these works can still be seen at the 'Yellow Church' Gallery up until the middle of December 2021. More details at www.richardaslett.co.nz. Thanks
The WINNERS from the 16 Years & Under Section of Fakes & Forgeries 2021 are;
GOLD - Bailee Dorrian with 'Starry Night over the Rangitikei' - Inspired By : Starry Night by Van Gogh
SILVER - Peter Smith with :'Sunflowers' - Inspired By : Van Gogh
BRONZE - Lacee Dorrian with :'White Water' - Inspired By : 'The Great Wave' by Ukiyo-e artist Hokusai
Congratulations to the Winners who all receive Artists materials of Paints, Canvases and other fun arty goodies! See picture attached for the winning images !
And here we have the GOLD, SILVER BRONZE and 2 x Merit WINNERS - Adults Section - Fakes & Forgeries 2021 !!!
Adults 1st Gold - "Sunflowers" (after Van Goch) - by artist Willow
Adults 2nd Silver - "Girl with a Teddy-Bear Earring" (after Vermeer) - by Kim Rees
Adults 3rd Bronze - "Tutaepuroporo" (after Van Goch/Peter Macintyre) - by Louise Templer
Adults Merit (2) - "Bill" recreation of Bill Baily Portrait - by Graham Christensen
Adults Merit (1) - "Girl with a Pounamu Earring" - (after Vermeer) - by Viv Millward
See pictures attached for Winners and News-clips etc, also a new RadioNZ interview on Fakes & Forgeries 2021 at https://www.rnz.co.nz/news/national/454065/fans-prepare-to-appreciate-amazing-pieces-of-unoriginal-art
Post a comment
Are you going to this event, or would you like to? Let the community know what you're looking forward to most by posting your comments here!
People who liked this also checked out these events